All our policies hinge on this goal...
One Home Only - it is not about re-homing dogs as fast as possible but ensuring they stay in the home they have found. This process is started with our unique adoption package.
Spurred on by the generosity and enthusiasm of all our supporters, Oakwood are now in a position to be able to help a greater number of dogs than ever before.
Great things can be achieved with the help of our many generous supporters working together towards a common goal, creating more happiness for every dog that ends up at Oakwood Dog Rescue.
Operating since 2009, the rescue helps all dogs tthey can, of any breed or age including those with special needs or behaviour issues. As mentioned above the goal is to rehabilitate and re-home them to loving homes, where they can live out the rest of their years in a happy, loving environment.
The charity is privately funded and receives no government or large scale support. The sheer generosity of the public is the only reason the rescue can continue its work. The centre costs around £11k per month to run. To raise this money, fundraising events are held as often as possible. Currently there are no surplus funds, and the centre is operating on a month by month basis. Your help and support is critical to our survival.
In 2020 Oakwood Dog Rescue has opened two new business ventures: Happy Paws Spa at Oakwood Dog Rescue and The Dog Hub at Oakwood Dog Rescue. All proceeds from these businesses will go towards caring for the dogs at Oakwood Dog Rescue and helping the centre grow.
The design and setup of the rescue facilities ensure the highest welfare for dogs in our care. The centre is made up of individual kennels and a number of rooms, halls, yards and fields where the dogs can run, play and rest together all day.
Any dogs that are not able to mix with other dogs have their own kennel and are taken out for up to 4 walks each day. This is only possible because of brilliant volunteers who give up their time to take these dogs for walks.
All kennelled dogs are given kongs, chews and other forms of enrichment to keep them busy. Each kennel is equipped with a bed or crate to make them more homely and comfortable. To help keep the dogs as relaxed as possible, music is played throughout the day and we have plug in diffusers around the centre to help minimise barking and reduce stress. As a result our kennels are fairly quiet in comparison to many rescues.
The dogs we take in come from all sorts of backgrounds; from owners who are simply unable to care for them, to the streets of Romania. You can follow the journey of many of our rescues on our facebook page.
The rescue centre is open with the fact that we do not operate a 'no put to sleep' policy. For dogs that are severely mentally or physically ill, it is sometimes the kinder option to end their suffering rather than resign them to living in a kennel for the next 10 years. Luckily since the rescue began in 2009, we've only had to make this difficult decision a handful of times and it is never an easy one. All options regarding training and potential re-homing are exhausted before considering this.
There are no time limits or deadline dates for a healthy dog to be re-homed. Time will be spent working with them to make them more desirable to families.
Each dog will be played with and socialised on a daily basis and we aim to teach each of them a level of basic obedience.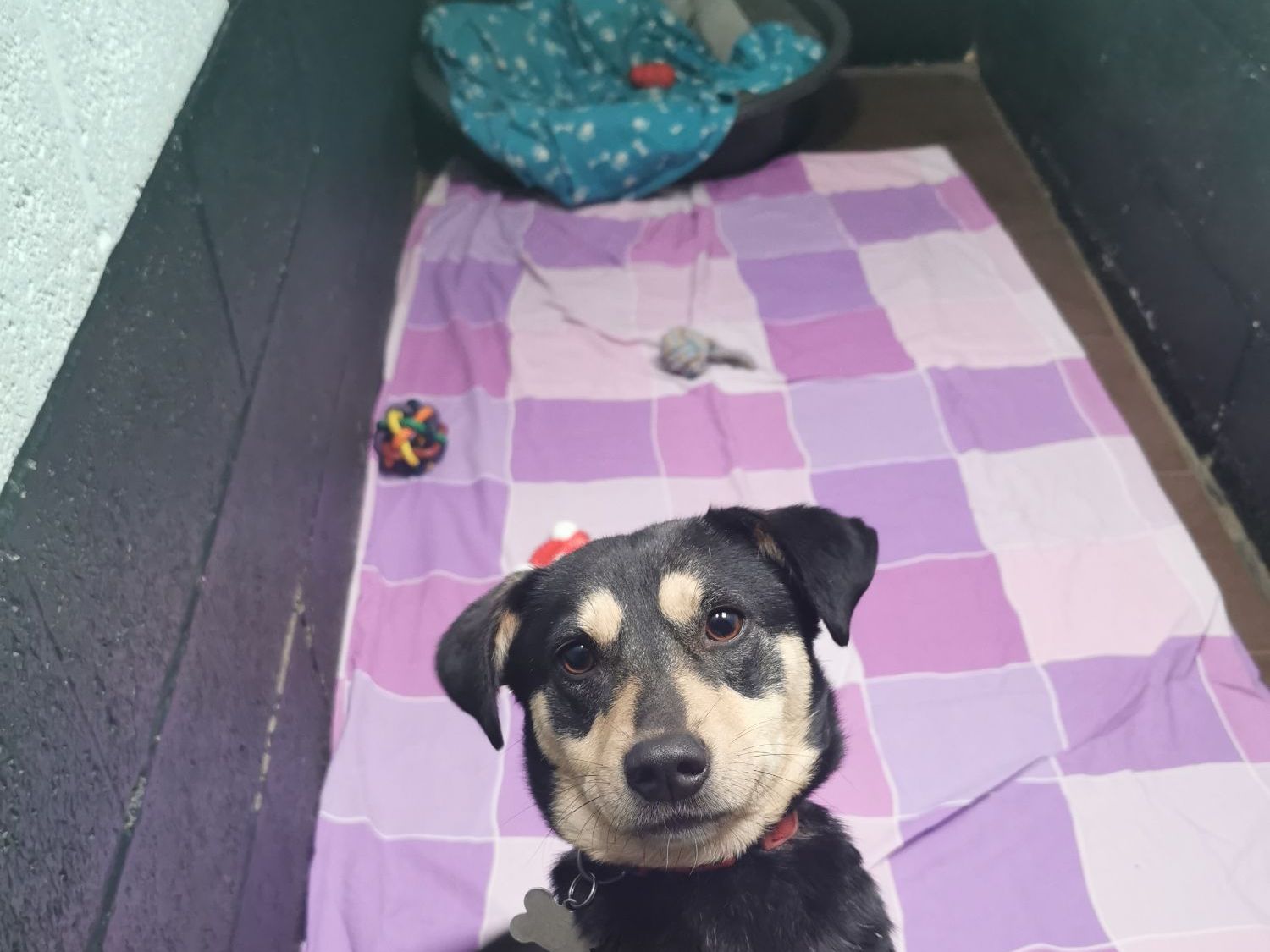 7am-8am - All dogs are let out into the fields, yards or taken for individual walks for toileting.
8am-9am - Breakfast time!
9am-11am - Morning playtime in our halls and fields. Other dogs go out for walks throughout the morning when our fantastic volunteers and dog walkers come. Chews, bones, kongs and treats are dished out to keep the dogs occupied. Our fantastic team of volunteers helps us keep the centre clean and provide the neccesary day to day care for all of our dogs.
11am-12pm - Lunch time! An extra meal of the day for those underweight or growing puppies. All dogs are let outside or taken on a walk one last time before the morning shift ends.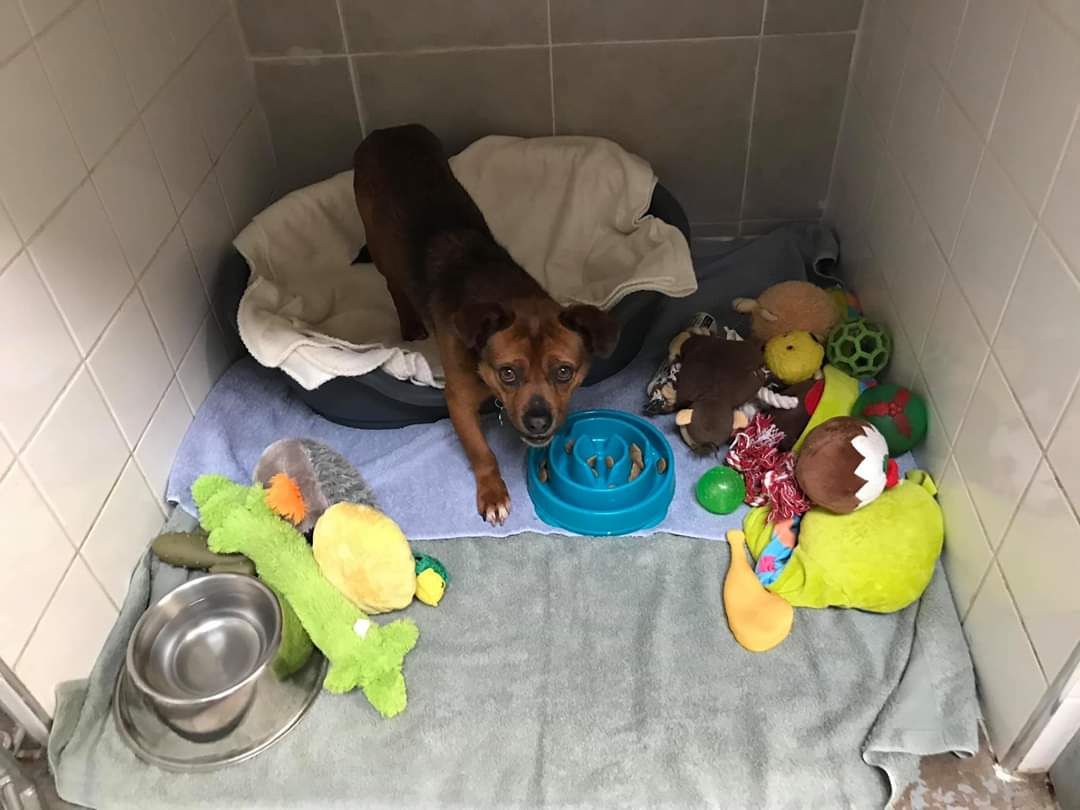 1pm-5pm - The dogs in the kennels go for an afternoon nap and relax after a busy morning of walks and playtime. Time alone is good for the dogs and promotes healthy separation from humans so they can get used to being alone for periods when their new owners are out at work.
5pm-6pm - As the evening shift begins or dogs are let outside or taken on walks again for toileting.
6pm-7pm - Dinner time!
5pm-9pm - The evening shift of dedicated volunteers come to come to help us care for the dogs and our fantastic dog walkers come to take them out on walks again. Some of the dogs will go out into the fields for playtime and socialisation.
9pm-10pm - The dogs are taken for last toilet stops and all are bedded down for the night.
Oakwood Dog Rescue is a non profit organisation for underdogs. Those who are abandoned, homeless and unwanted animals primarily dogs who come from homes, shelters, vets, boarding facilities or the streets. Placing them in the best possible permanent loving homes. Oakwood Dog Rescue promotes health and rehabilitation for animals during their care and future placements. Increase public awareness of the value of animals as pets and bring to the fore the over population issue taking positive steps to act within their sphere of influence.

1. To give each animal as much time as necessary to find a secure loving permanent home within reasonable medical/behavioural limitations.

2. To complete a home check by an Oakwood Dog Rescue approved Home Checker before allowing an animal to be homed.

3. To Spay/Neuter any Dog/Bitch before homing or rehoming.

4. To vaccinate & microchip appropriately any animal which comes under the care of Oakwood Dog Rescue.

5. To provide proactive Veterinary care for any animal under the care of Oakwood Dog Rescue

6. To treat any internal or external parasite for any animal which is in need under the care of Oakwood Dog Rescue.

7. To have public days for the education and meeting the public including the annual show as well as providing advice on responsible pet ownership.

8. To uphold the laws of the United Kingdom and the encouragement and assistance in the enforcement of all laws for the prevention of cruelty to animals.

9. To make every effort to make sure that homes and families are the best possible match for that particular animal.

10. To provide ongoing training and support for all dogs rehomed to ensure they stay within their current home and are not returned due to behavioural problems.

11. To interview and monitor volunteers working within Oakwood Dog Rescue.
Panda came to Oakwood from Romania, where she had been living in a garden for the past 3 years with almost no human contact. She had given birth to at least one litter of puppies who were all taken away, only Panda was left behind. When she arrived Panda was petrified of people, but found confidence in her doggy pal Bill (now adopted and called Buddy) who arrived at the same time as her. It took several months for Panda to gain any sort of trust with familiar people and her training is ongoing in her new forever home. The clip is a snapshot of Panda enjoying the life during her time as an Oakwood Rescue!
When Ebony first arrived she was a quivering wreck in the kennel, so scared she would shy away when you went nearer and couldn't bear to look anyone in the eye. After just 2 days she had changed into this beautiful playful girl, all from just giving her a bit of time and space and the introduction of a couple of toys! Ebony is now enjoying her new home with a loving family.
Full vaccinations - worth up to £45.00
Microchipping - worth £15.00
Neutering - worth up to £200.00
Free telephone/email advice when you need it, anytime, 365 days a year - priceless!
Full behaviour assessment whilst in the rescue - worth up to £150.00
50% off a groom at Noah's Ark Dog Grooming
20% off your first 3 grooms at Happy Paws Spa at Oakwood Dog Rescue
Up to date with worming and flea treatment - worth £15.00
Adoption Welcome Pack: Including a booklet on settling your new rescue in and much more!
You will also be given a 6 week online dog training course from Oakwood Canine Services