Meet the dogs!
WE ARE NOT CURRENTLY BOOKING ANY VIEWING APPOINTMENTS IN AT THE CENTRE. PLEASE NOTE - VIEWING RESCUE DOGS IS STRICTLY BY APPOINTMENT ONLY
Appointments are booked after you have submitted an adoption application form and this has been approved by the adoptions team. Please do not turn up at the centre without an appointment as you will be turned away. We politely ask that you follow our adoptions process to avoid having a wasted journey and also disrupting our care of the dogs by turning up uninvited.
All new dogs into rescue are assessed and then offered to the people on our waiting list before being offered for general adoption. Your ideal dog will arrive at the centre and get adopted without you even knowing about it, unless you're on our adoptions waiting list.
IF YOU WISH TO BE NOTIFIED OF ANY NEW DOGS COMING INTO THE CENTRE THEN PLEASE FILL OUT THE ADOPTION APPLICATION FORM AND WE WILL ADD YOU TO OUR WAITING LIST.
Here you can view the dogs currently in rescue. We aim to provide a full behaviour assessment on each dog covering a range of areas from how they cope socialising with other dogs, how they interact with children and whether they could potentially live with cats.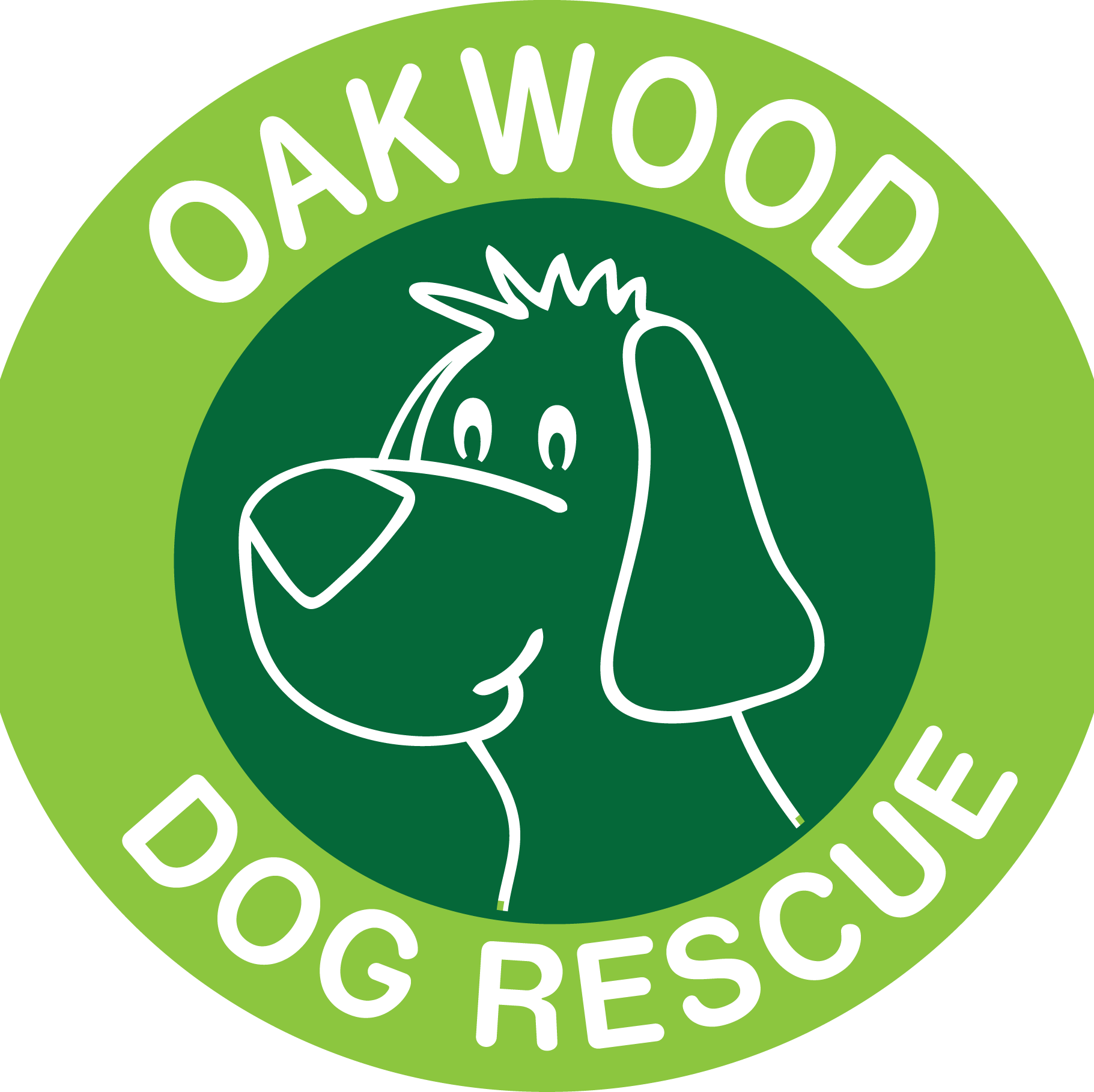 Oakwood Dog Rescue works closely with International Dog Rescue,providing UK kennel space with the goal of rescuing dogs from the terrible conditions of the Romanian public shelters. Below are some of the dogs that have been lucky enough to have found a sponsor and are now safe at Oakwood looking for their forever homes...
Want to learn more about our Romanian dogs - where they come from and what we do to prepare them for travel? Please follow this link to discover their life in Romania

Mia | 4yrs | Female
Mixed breed | Large (20-40kg)
Mia has had a tough life and has been in UK since November 2018. She was housed at another rescue that weren't able to find her a forever home. Mia loves her people but she can get frightened of strangers coming up to her on walks. She is currently on a diet as she arrived quite hefty but she has a love of tennis balls and has been working on her fitness chasing them. Mia is a very loving dog and all she wants to do is please you. Sadly she has never had a stable home in her life. She does not like to share her humans with other animals and she needs an adult only home as she's a big, strong and bouncy girl.

Logan | 2yrs |Male
Mixed breed | Small (4-10kg)
Logan is a very bouncy boy that really loves the people he can trust. Logan does need to feel safe with you before he trusts you. He is a very smart dog and has been used for training livestreams during the lockdown period. He enjoys to play with toys but isn't keen on you trying to take toys from him due to his past as a Romanian ex-street dog. Logan walks nicely on a lead and is always on the go, he needs a home that will allow him to settle in and have space so he can learn to trust. He doesn't like to share attention with other dogs and wants his human all to himself. Logan will be a very loving dog in the right home.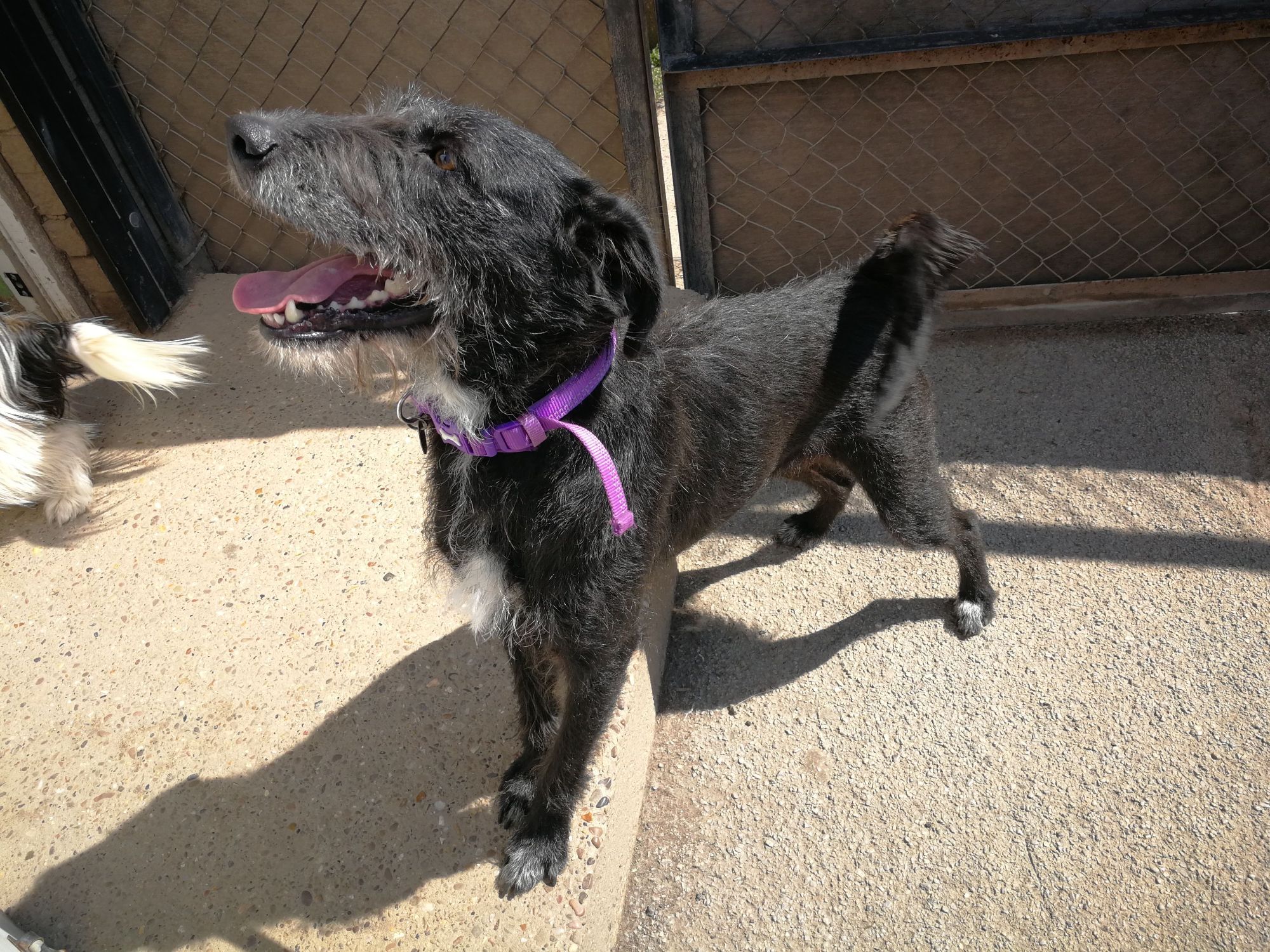 Sally | 7yrs | Female
Mixed breed | Large (20-40kg)
Sally was the shelters longest staying dog. She was in the shelter for potentially years. She was too frightened of people and would hide away. Upon arrival she started to trust and is becoming a loving girl. With a bit of patience she will be a very loyal dog. She is just beginning to go out for walks, her lead work is a bit erratic at the moment and she's nervous of loud noises and lots of people. Sally will need someone that is around a lot as she is frightened to be left alone. She is not keen on other dogs and prefers human company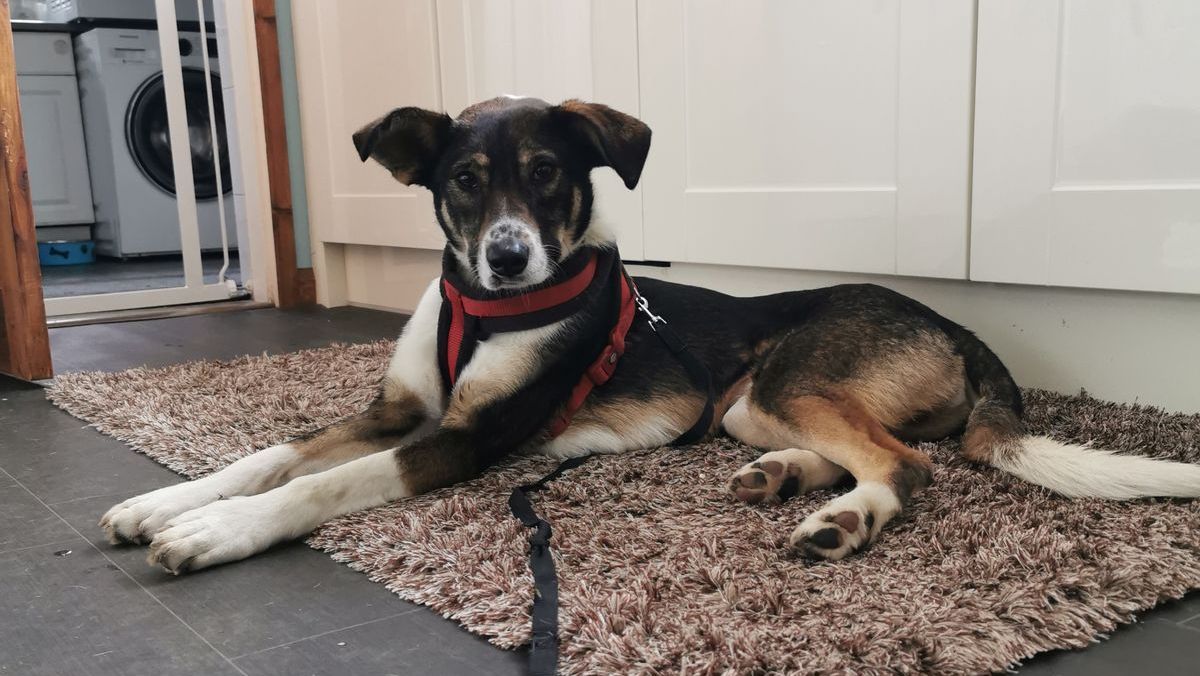 Smokey | 3yrs | Male
Mixed breed | Large (20-40kg)
Smokey is a shy boy that was very ill in the Romanian shelter and would have surely died from his ailments if he had not been brought to the UK. Smokey is currently in foster but is desperately seeking his forever family. He will need leaving alone to settle in as overwhelming him could shatter any confidence he has. Smokey is more confident around other dogs and really enjoys his walks. He walks well on a lead but will require 2 leads as he can spook at loud noises. Smokey is an extremely sweet boy that has faced terrible treatment in his past, he will need a patient person that is willing to take him on as a project.

Bot | 1yr | Male
Mixed Breed | Medium (10-20kg)
Bot was housed in a private shelter in Romania. Last spring his mother gave birth to 6 puppies. After 2 months all became ill with parvovirus. They were treated but they all died in 3 days except Bot who recovered surprisingly. Bot is a nervous boy but is beginning to warm up to the staff and volunteers at the centre. He is calm and sweet dog but can be unsure of new people. Bot enjoys the company of most dogs, but needs to be introduced correctly. Throughout his life Bot was only used to seeing 4 people, so it can take him some time to adjust to a new person in his life. He is not confident to go on long walks yet and must not be pushed as it will frighten him.

Kara | 4yrs | Female
Mixed Breed |Small (4-10kg)
Kara came to us from a private shelter in Romania. Kara is one of two surviving puppies from their litter that were horrifically thrown on a fire to get rid of them by their mother's owner. Kara is a nervous girl due to knowing only 4 people for the majority of her life. Kara will require a very patient family that will allow her to find her feet in the home. Kara is not currently confident enough for walks and must not be pushed as it will frighten her. Once Kara feels confident she is a very loving and affectionate dog that enjoys a hug. She is generally friendly with dogs but must be introduced correctly.

Monty | 2yrs | Male
Mixed breed | Small (4-10kg)
Monty was found in a public Romanian shelter and arrived extremely timid. He has been at the centre for a while now and has only just allowed the staff to stroke him - he is a dog that will take a while before he is comfortable around you. He is a toy fiend and loves his squeaky balls, soft toys and tennis balls. He enjoys going out for a walk and is also a big foodie. Monty does not like sharing toys wth other dogs and would prefer to keep them all to himself. He is a dog that needs a patient and understanding home. He needs to be left to find his feet in a home as pushing him could frighten him.

Woody | 2yrs | Male
Mixed breed | Medium (10-20kg)
Pretty Woody is a loving dog with people he can trust but he is very unsure with new people. He loves to play in the halls, but can be very bouncy and has trodden on a few dogs accidentally. Woody could live with a friendly female dog but he is energetic, so would best suit a similar energy level. Woody is a very smart boy and will excel at training if it is kept consistent. He loves his toys and playing tug with his doggy friends. Woody will need a patient family that won't push him, he is not keen on being bathed or groomed and so his adopters will need to work with him to build up his tolerance to grooming.

Lilly | 2yrs | Female
Mixed breed | Small (4-10kg)
Lilly is a sweet but timid little dog. She is not keen on being handled and it can really frighten her. Once she builds up a bit of a bond with you she will come over for affection. With Lilly it is very important to allow her to initiate the interaction otherwise it can really spook her. She is a very playful little girl and really enjoys playing with tennis balls, soft toys and squeaky toys! Lilly enjoys going out for long walks and is an active little lady. Lilly likes to keep her toys to herself and prefers humnan company over the company of other dogs.

Indy | 2yrs| Female
Mixed breed | Small (4-10kg)
Indy is a very sweet girl, she does take a few meets to feel comfortable with you before she trusts you, but once she does she is a very affectionate girl. She's not completely comfortable with being touched and can become submissive if interaction is forced. She will need to take it slowly so she knows you won't hurt her. Indy is enjoying her walks with dog walkers and has the potential to be a very sweet dog. She is an active girl and enjoys playing with soft toys, tennis balls and squeaky toys! Indy is a curious little lady and has taken a shining to puzzle toys and kong wobblers. She is a big foodie which will make training that bit easier.

Lola | 1yr | Female
Mixed breed | Small (4-10kg)
Lola was terrified in the shelter and would flee if people came near her. She has surprised the staff with how well she has taken to kennel life. Lola is progressing in confidence daily, and when she gets to know you she can be excited to see you. She is not confident with being touched as of yet so everything must be done at her own pace, and you must not force any interaction with her. If Lola trusts you she is more confident with initiating interaction herself and needs a family that respect this. Lola has the potential to become a very loving little dog in the right hands.

Lewis | 3yrs | Male
Mixed breed| Small (4-10kg)
Lewis arrived terribly matted and couldn't see what what happening around him due to the mats across his face. Lewis can be very unsure and wary around people he doesn't know and doesn't like to be handled as he is frightened that you will hurt him. He is currently building up confidence with staff but we are doing everything at his own pace and will not push him. Lewis cannot live with children as if he gets scared he can panic and must have a patient adult only home that are willing to take time to bond with him.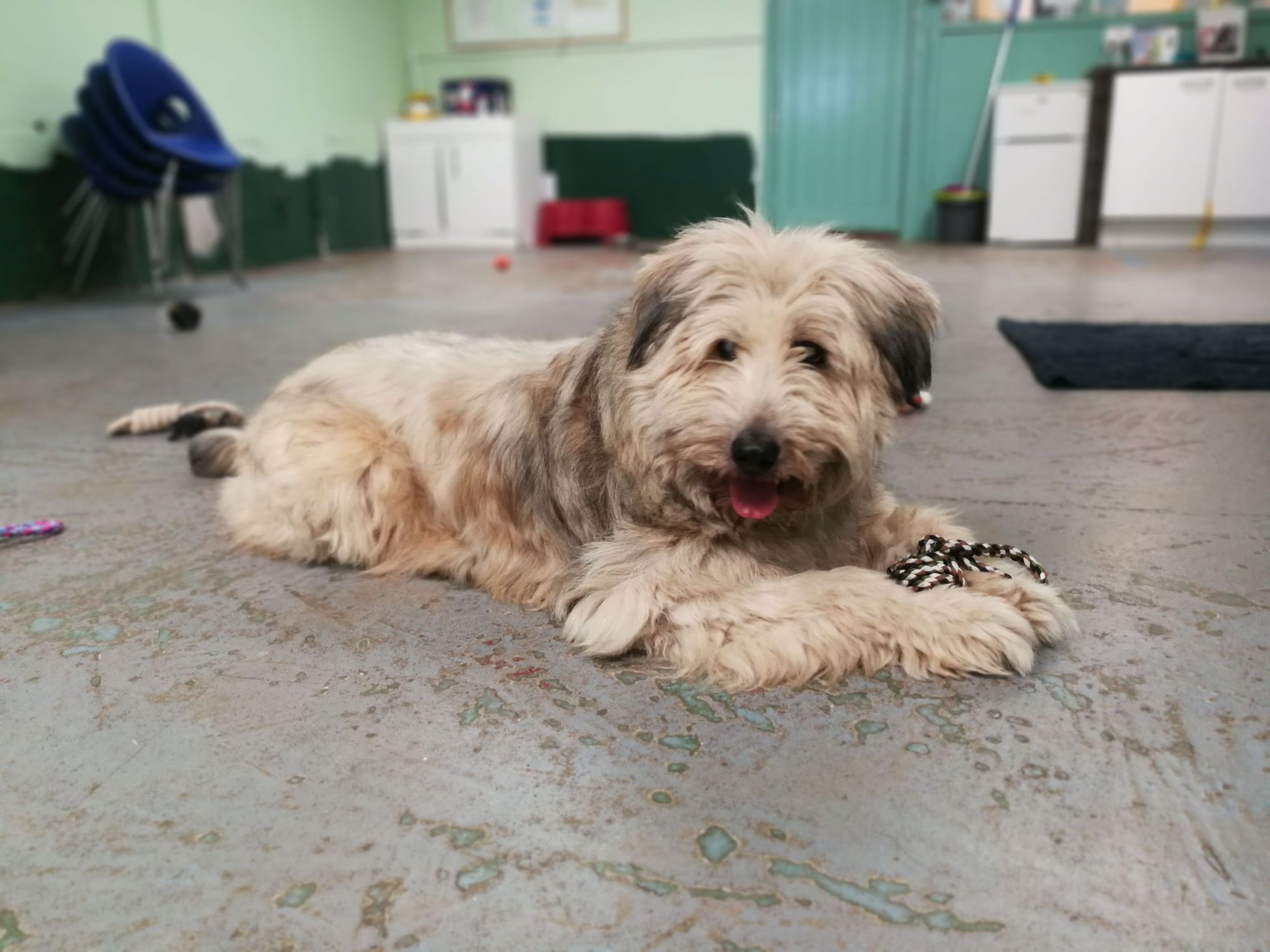 Louie| 11yrs | Male
Mixed breed | Large (20-40kg)
Gorgeous Louie came from Romania and luckily ended up straight in foster. Due to unforeseen circumstances, Louie had to come to the centre. He's an older dog and is completely blind. He is frightened of other dogs, due to not being able to see them and so would need to be an only dog. He's a large lad, thought to be of the Romanian Mioritic Shepherd type, and will give you twice the amount of love as any other dog. Louie is a gentle boy, once he is settled he can be rather playful, and will tap you with his paw for cuddles. As Louie cannot see, he needs a patient person that is happy to guide him along - he is very responsive to your voice and will follow you when you talk to him. He would benefit from a quiet, less crowded home as he does bump into things quite often. Louie is quickly becoming a staff favourite, as he is a big, lovable teddy bear. This older gent needs a loving home that can care for him in the time he has left.
Somebody caught your eye? Unfortunately we cannot always match dogs to applicants based on a photo... Please complete a form so we know a bit more about you and what you're looking for! Let your perfect matching service begin...